The pandemic has brought about shortages in virtually every industry, from cleaning supplies to automobiles to, of course, construction materials. Even though lumber prices are expensive, it doesn't necessarily mean you need to put off the home renovations you've been planning.  You can consider rethinking your renovation plans to use other materials and achieve a beautiful, unique finished space. Just because lumber is a traditional material doesn't that it's your only option. Other building supplies can work just as well, or even better, for your project.
Knowing why lumber prices are elevated may help you make the best decision for your renovation. However, you also should know you can get around this issue. Rising lumber prices could increase in cost and extend timelines. However, lumber costs typically only account for 10% of most construction project budgets. With a little creativity you can still easily move ahead with your dream renovations both on time and on budget.
What's Caused the Cost of Lumber to Rise?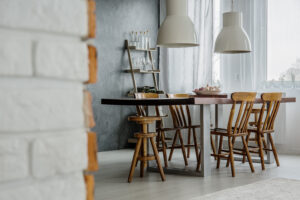 Typically, lumber is pretty affordable. However, in just over a year lumber costs has reached an all time high, rising as much as 337%. As one of the most heavily-used raw materials, this presents a big problem. 
The events that led to today's lumber crisis started before the pandemic. Wildfires and tree-destroying insects damaged the industry's tree supply throughout the 2000s and 2010s. Then, when the pandemic began, lumber mills expected decreased demand like with previous US recessions. This meant that not only was there a decreased tree supply, but mills drastically cut output.
However, things didn't quite go as predicted. Due to a number of factors, the demand for lumber actually increased. With people spending more time at home than ever before, home renovations jumped drastically as every put off project became a priority.  Then, new residential construction also skyrocketed, further increasing stress on the lumber industry's production.
If you're hoping to start a home renovation soon, the effect of lumber prices may be a concern. When and how much lumber prices will drop is still very much so up for debate. However, this doesn't necessarily mean that you need to halt your home renovation plans. Luckily, though, the trend of lumber prices being lower in the fall than in the spring is expected to continue.
How Do Rising Lumber Prices Effect Renovations?
In short, rising lumber prices and shortages can increase project timelines alongside the cost of home renovations. According to Realtor.com the national average price for a kitchen renovation pre-pandemic was $20,474 (and even more in the Bay Area). With the effects of the current state of the lumber industry in place, the price for kitchen remodels can reach nearly $30,000. However, it's important to remember these numbers don't necessarily include your architect and project manager actively seeking solutions to your materials problem. So while it may seem stressful when you're concerned about your remodeling costs, moving forward will be less expensive than risking the wait. 
Alternatives to Lumber for Your Material Selections
One of the simplest solutions to the problem with lumber prices is to avoid using lumber wherever possible. Typically, lumber is heavily used in the renovation of kitchens and bathrooms. Most built-in cabinets are designed from high-quality lumber in order to withstand constant use. The good news is there are many materials that can fit your needs, whether your priority is budget or your project timeline.
Affordable lumber alternatives include concrete, metal, bamboo, plastics, and composites. These materials are all durable and make fantastic alternatives to lumber. Plus, you can create a unique-looking space while also saving money. Many alternative building materials also have a lessened impact on the environment.
Lumber Alternatives can be More Affordable, Durable, and Unique
If green, eco-friendly materials are important for you, you may consider cork. This is lightweight and a great choice for areas that are frequently exposed to water. You may also consider reclaimed materials, such as woods and metals. Not only will these supplies lessen the cost of your renovation, you'll also reduce environmental impacts of your project. Sourcing reclaimed materials requires flexibility as availability changes rapidly in each geographic area. .
You don't need to sacrifice durability in your pursuit of lumber alternatives, either. Stainless steel offers not only durability, but a unique design style. Stainless steel will last for virtually forever, something that can't be said for most wooden kitchen and bathroom features that could be damaged by wear and moisture. Many homeowners turn to these materials even in "normal" times because of their sustainability.
Building materials like composites and different woods, such as bamboo, help reduce the need for traditional lumber. Plus, you'll end up with a beautiful, unique look. Composites require less maintenance than traditional materials, making them a great choice for high-use areas. Bamboo is lightweight and typically more affordable than regular lumber. It's also very fast-growing and therefore is more sustainable than other woods.
Budgeting Amidst Fluctuating Lumber Prices
A great way you can avoid unanticipated costs is by working with a project management service. Working with a project manager can help you navigate fluctuating costs and supply availability. With an expert at hand, not only can you avoid excess spending, but you gain more creative solutions, too.
Renovate Now or Renovate Later?
Moving forward with your renovation is exciting, especially knowing you don't need to wait for the market to shift. Home remodels take time. From working with an architect on your plans through material selections, possible permits, and the build, it's not an immediate process. So if you wait, you may actually miss out on drops in lumber prices or when materials become more easily accessible. Plus, you have to decide if it's worthwhile for you to go without the changes you need to make on your home. It's unnecessary to let lumber costs hold you back.
There may be more options than you know for how to make your renovation fit your budget . You don't need to sacrifice style or function. It's definitely worth a meeting with an architect or project manager. Using a project management service will help to relieve your stress surrounding your  home remodel project and allow you to enjoy the experience of making your dream home a reality.