The decisions you'll make as you go through your home renovation project will probably feel endless. But that's what is so exciting about a home remodel. You finally get to decide what's important to you and what your space will be down to its very bones. As you dive in, you may find yourself interested in implementing green architecture into your design plans. You have the ability to choose to prioritize design efficiency, lowering energy and water usage, reducing waste, and improving the overall environment of your indoor spaces.
Incorporating environmentally-friendly design into your home isn't limiting. Rather, it opens doors to create a space that uniquely improves upon the lifestyle and health of your family while lowering environmental impact. When you consider green architecture you'll walk away with a beautifully finished space that truly works for you.
What is Green Architecture?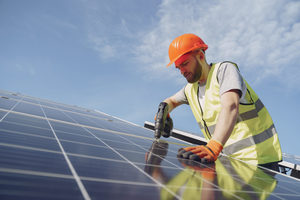 Green architecture, also known as sustainable architecture, is an architectural design that keeps the environment in mind. Architects working on green homes use innovative design techniques to reduce the harmful effects construction can have on the environment.
Green architecture prioritizes improving:
material, water, and energy efficiency.
structure maintenance.
quality of indoor environments (such as air and light quality).
structure and material life-cycles.
and decreasing the use of natural resources.
As such, sustainable design goes beyond initial construction or renovation. It reduces the impact you have on the environment while living in your home.
What Does Sustainable Architecture Look Like for You?
Sustainable architecture can take a variety of forms and work with just about any style of home. Many people think of green architecture as only ultra-modern and sleek. However, rather than being a specific aesthetic, green architecture emphasizes using natural materials and maximizing the architectural design based on the natural environment and terrain. The goal of green architecture has nothing to do with a modern home versus traditional design or mid-century versus Victorian. This means that no matter your stylistic preferences sustainable design is for you.
Sustainability Starts on the Exterior
A simple example of sustainable architecture in action is in material selections for your exterior. Exterior siding made of sustainably sourced wood is both cheaper and has a considerably reduced carbon footprint compared to man-made materials. Additionally, sealants, paints, stains, and other advances make wood easier to maintain with a longer life cycle. Then, try to use rapidly renewable plant materials (bamboo) or source from sustainably managed lumber forests. By doing so your exterior renovation will hit at least three of the main goals of green architecture.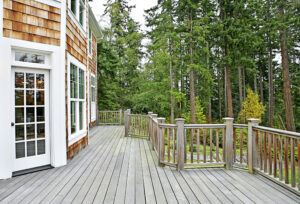 You can take this same approach as you look to create outdoor spaces and remodel your patio and deck spaces. Choosing sustainable sourced wooden decking over vinyl has the same environmental awareness power as selecting wood siding. Plus, with wooden decking, you won't have to deal with it overheating like vinyl. As you plan, selecting materials based on their sustainable sourcing, maintenance, and recyclability is what green architecture is all about.
Green Architecture in Kitchens
In a study conducted by Statista, they found 27% of kitchen remodels are done because of the original kitchen breaking down. It's pretty typical for homeowners to remodel their kitchens every 10 to 15 years due not only to style changes but wear and tear on materials. And as a place your family spends a lot of time in, it uses a lot of resources. With that being said, a green remodel of your kitchen isn't just a nice idea for the environment, it's economical.
To reduce the need for vents and fans that can use a substantial amount of electricity, large, energy-efficient windows can be used to control smoke and steam in kitchens. This option also increases light and airflow through your kitchen. A creative green architecture option to consider in kitchen renovations is incorporating outdoor access. Kitchen herb gardens are especially popular. You might also consider an outdoor kitchen or dining space that connects seamlessly to your main kitchen. This improves upon your living environment tenfold by providing greater access to natural light and airflow.
Additionally, a great way to improve upon the overall sustainability of your kitchen is with your appliances. You can consider choosing energy-efficient models. To save money and reduce your environmental impact, look for those that are ENERGY STAR rated.
Creating an Efficient Home Addition
When deciding on the location for your home addition, consider the shape and natural environment of your property. The addition needs to be practically placed with the other rooms in your home. However, if you keep the principles of green architecture in mind, you'll prevent your addition from noticeably increasing your energy bills.
Placing your renovation in an area that maximizes sunlight reduces the need for electric lights in the space during the day. Alternatively, those living in hot climates may want to choose a shaded area to save money on air conditioning bills.
It's also important to take the natural terrain into consideration when planning an eco-conscious home addition. Keeping the natural terrain shape and vegetation intact helps to preserve the area you live in. Creative foundation techniques can be used to work with ground that isn't level or is on an incline. Preserving the landscape also helps with drainage and preventing soil erosion. These are important factors to take into consideration when creating an addition that will stand the test of time.
The Benefits of Green Architecture
Of course, one of the primary benefits of green architecture is the impact it has on the planet. Sustainable design helps to protect the earth, so you can feel proud of the choices you're making for your renovation. According to the U.S. Green Building Council, energy-efficient architecture leads to lower CO2 emissions, less energy usage, as well as less water consumption. Additionally, green design helps to reduce air pollution in the home, making your home safer for you and your family.
Often overlooked, green design has a huge impact on family life. Living in harmony with nature can have a positive influence on social relationships. Creating a well-designed, sustainable space with good lighting and air quality can provide noticeable benefits for the people living in your home. This includes physical and mental health as stress and anxiety are reduced.
You Gain More Than You Spend
It's true that using sustainable materials can sometimes be more expensive than less-sustainable alternatives. However, the price difference usually makes up for itself in the years following your project. Green materials often last longer than traditional building supplies. Energy-efficient appliances may have a higher price tag, but they'll pay for themselves by saving money on your bills each month. 
Plus, your sustainable renovation pays off in other ways, too. Some locations, like the Bay Area, offer incentives for those employing sustainable design or using renewable energy in their homes. Also, Leadership in Energy and Environmental Design (LEED) offers an internationally recognized green home certification. Achieving the certification means not only do you reap the benefits of a green home for yourself, but your certified green home may qualify for insurance discounts and tax breaks. Ultimately, LEED homes have higher property values, rent, and sell faster.
Green Remodels Need Great Architects
Having an accomplished team of professionals behind your renovation project is always essential. This is especially true when it comes to green architecture. Understanding the utility of unconventional materials and knowing how to best construct an efficient space is important. One size doesn't fit all when it comes to creating a green renovation or addition. Having a great team behind you can help you reach your eco-friendly goals with a design that works for you.