As short-term rentals have become more and more popular, you may be wondering how you can create your own. You know it can be time-consuming and a big investment. However, turning an ADU into a short-term rental is an exciting opportunity to generate substantial extra income. Plus it has the potential to significantly increase your property value. However, using spaces for anything beyond their original purpose means you need to keep laws and regulations for short-term rentals in mind. These are usually local laws, specific to the city or county your rental unit is located in. Then, regulations can differ even between cities in the same county. Not following the laws governing short-term rentals can lead to legal trouble and hefty fines. Avoiding these issues, however, is simply a matter of a little research and good planning.
Types of Additional Dwelling Units
Accessory dwelling units usually come in three different forms: interior conversions, attached, and detached. While the laws regulating these different situations are usually similar, not noting the differences can lead you to a headache later.
First, Interior ADUs are most commonly found in previously unused attic or basement spaces. Homes with interior conversions usually have two entrances. This is done to avoid tenants accessing keys for your main home. Interior ADUs must be inspected and meet current standards, which could include a sprinkler system or separate electrical service. You should check with your local guidelines to make sure that your interior ADU is up to code. Next, Attached ADUs are
attached
to the same structure of the main dwelling. These have an entrance separate from your main home but connect with a hallway or door. As with interior ADUs, there are specific regulations to be followed. For example, they may need separate heating and cooling systems to prevent air exchange between the main dwelling and ADU. Finally, Detached ADUs are often the most lucrative short-term rentals. They are separate from the main dwelling on your property, meaning they offer greater privacy to the tenants. For instance, a detached ADU may be located over an attached garage, in a guest house, or another standalone structure. Then, Detached ADUs often have regulations involving sewer or water service and if it's allowed to be connected to the service of the main dwelling.
Short-Term Rental Laws in the Bay Area
Cities in the Bay Area have
various sets of regulations
for short-term vacation rentals. It's important to make sure your rental meets all of the requirements for your area before listing the unit.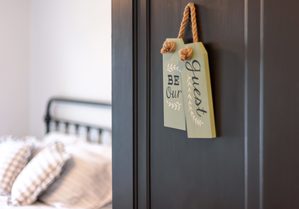 In San Francisco, for example, local laws require people operating short-term rentals to be permanent residents of the city. Furthermore, the city also differentiates between "hosted" and "unhosted" rental units. First of all, hosted units are defined as rentals where the owner is in the unit as it's being rented. Then, unhosted units are rentals where the owner is elsewhere. Unhosted rentals are less common with ADUs. But, it's important to note these rentals often have a cap on the number of days they can be rented per year. Short-term vacation rentals usually have various other legal requirements. These may include:
Obtaining a business license
Reporting the number of days the unit is occupied per year
Registering the unit as a short-term rental
Collecting hotel tax
Securing proper liability insurance coverage
Some Bay Area cities may have more requirements than what's been stipulated by the county. For instance, Oakland allows short-term rentals with the requirement that stays be longer than one week despite its county more generally allowing short-term rentals.
How to Find Short-Term Rental Regulations for Your Area
The Bay Area regulates short-term ADU rentals independently by county. Keeping up with and understanding current regulations in your area will ensure your plans are following all requirements for your property. The chart below is current to the date of this publication. It should give you a general picture of if ADU's can be used as a short-term rental in your county. In many cases, your city or local jurisdiction may have more requirements than listed here.
| | | | | | | |
| --- | --- | --- | --- | --- | --- | --- |
| County/City | Can ADU's Be Used as a Short-Term Rental? | Types of ADUs Allowed for Rentals | Requires Business License | Days Occupied Requirements | Requires Registration | Permit Information |
| Marin County | Yes | Interior, Attached, Detached | Regulated by City | Regulated by City | Yes | Permit Information |
| Contra Costa County | No | None | n/a | Not listed | n/a | Permit Information |
| Santa Clara County | Yes | Interior, Attached, Detached | Regulated by City | Regulated by City | Yes | Permit Information |
| Alameda County | Yes | Interior, Attached, Detached | Check with Local Jurisdiction | Check with Local Jurisdiction | Yes | Permit Information |
| Solano County | No | None | n/a | Not listed | n/a | Permit Information |
| San Mateo County | Yes, in specified areas | Interior, Attached, Detached | Regulated by City | Regulated by City | Yes | Permit Information |
| Sonoma County | No, long-term only | Interior, Attached, Detached | Check with local jurisdiction | Greater than 30 days | Yes | Permit Information |
| Napa County | Yes | Interior, Attached, Detached | Yes. Limited permits available, check with local jurisdiction. | Not listed | Yes | Permit Information |
| San Francisco | No | none | n/a | Not listed | n/a | Permit Information |
| Santa Cruz County | No | none | n/a | Not listed | n/a | Permit Information |
Alternative Uses for Accessory Dwelling Units
Short-term rentals, depending on the location, have the potential to be extremely popular. However, some ADUs are not suitable for short-term rental use due to restrictions in your area. Luckily, there are plenty of other ways to put your ADU to use. For example, an alternative option is to consider creating a long-term rental unit. Long-term rentals usually have an annual lease but can also be month-to-month. A great positive is long-term rentals can create more reliable income than short-term rental units. Plus, with long-term renters, management can be simpler for the day-to-day, making the potential load on your family lifestyle much lighter. Alternatively, some homeowners won't use the space as a rental unit at all. For instance, guest suites or housing for older family members are other common uses for ADUs, providing value to your property and your lifestyle.
Your Additional Dwelling Unit is Well Worth the Hassle
A good way to ensure that your ADU follows all of the regulations is to work with an architectural firm that is experienced in building ADUs for use as rental units in your area. This will help you comply with local ADU laws and avoid delays or unexpected costs during your project. You'll also have advice on how to best maximize your property value and start taking advantage of income-generating ADUs. Even if short-term rental ADU's aren't an option in your area, the value of adding an ADU to your property can still be huge. For example, recent studies have shown constructing an ADU increases the resale value of your home by a
whopping 51%
. Also, building an ADU may also be
more affordable than you think
. With pre-designed house plans and budgeting calculators, the options are wide open. Regardless of your goals, building an ADU has enormous payoff benefits worth your investment.