The kitchen is the heart of the home, and creating a functional space for you and your family is essential to a harmonious life. To do this, you need a well-designed kitchen that meets your family's needs. Good design is more important than ever in areas where you spend lots of time. It's important to remember, not all kitchen design trends are going make for a long-lasting, good design. Thoughtful planning of every aspect of your kitchen design can help to create a space that's functional and where your family will enjoy spending time together.
When planning a remodel, it's important to understand the difference between design and decor. Design involves creating a space that takes your family's behaviors, needs, and routines into consideration to create a kitchen that works for you. On the other hand, decor is the cosmetic element of creating a beautiful space. Everything from cabinet colors to wall hangings falls under the umbrella of home decor. Beautiful decor elements can take a well-designed space to the next level, but they won't fix a kitchen that's dysfunctional.
Creating easy access to your appliances and food, maximizing storage space, and prioritizing safety are all important factors that can make the difference between a dysfunctional kitchen and one that meets your needs. Kitchen trends come and go, but a well-designed space will serve your family for years to come.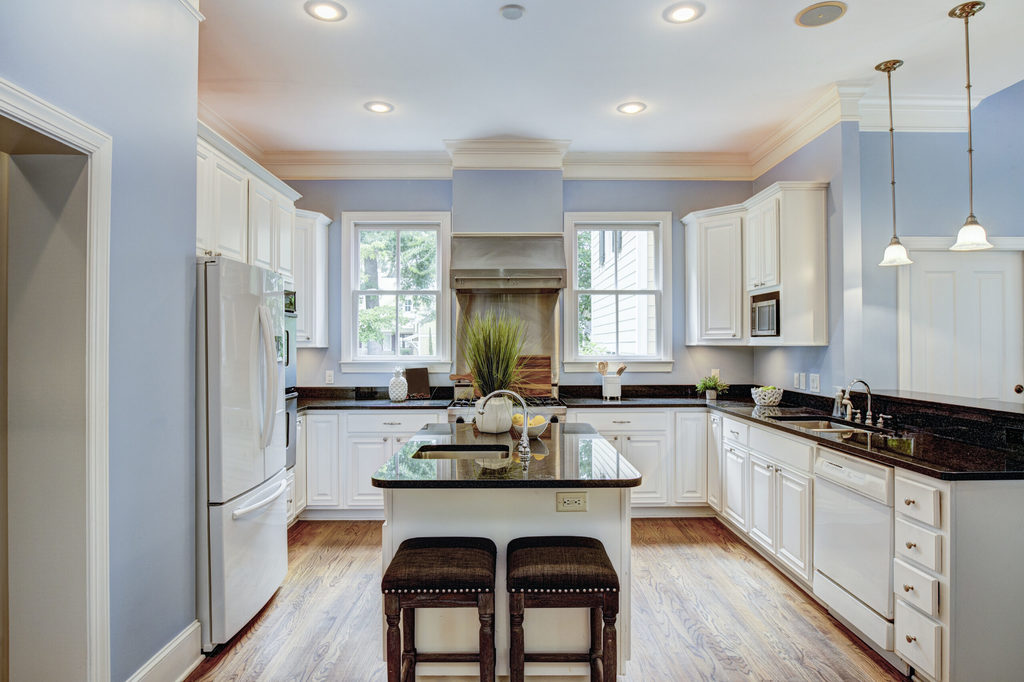 What Makes for a Great Kitchen Remodel Design?
A great kitchen remodel starts with understanding what makes a great kitchen design. Two kitchens side by side can have totally different decor aesthetics with nothing in common except they both stay true to superior kitchen design. What superior comes down to is an overall excellent use of space, thoughtful storage, lighting, and long-lasting materials. As you begin your kitchen remodel, start by prioritizing the things your current kitchen design lacks.
Look at Your Storage and Organization
Do you constantly find yourself wishing you had more storage for small appliances and food? Adequate storage is essential to creating a kitchen that isn't cluttered and that's always ready for your next culinary experiment. Using your kitchen space efficiently and strategically can help even the smallest kitchens create spaces for eating, cooking, and entertaining, all while maintaining an easy flow.
Consider Your Lighting
Lighting is an important element of kitchen design that's often overlooked. However, having good lighting is essential for preparing food, especially in the early mornings and at dinner time. Looking at your kitchen now, you might ask yourself if it feels dark or dim. Because natural light fluctuates throughout the day and season, having a variety of different lighting options is a great idea. Main sources of overhead lighting and additional support lighting over your island, sink, stovetop, and workspaces can help you create a comfortable amount of illumination at any time.
Your Material Choices Make a Difference
Finally, the materials you use in your kitchen are just as important as what you use them to create. Countertop materials, in particular, have become more diverse in recent years, ranging from eco-friendly options to handmade tiles. Think about where you and your family are hardest on in your kitchen or what it's like cleaning and maintaining your current space. You'll find many materials don't hold up to kitchen wear and tear regardless if they're on trend or not. Soapstone countertops, for instance, have a beautiful appearance but scratch easily, unlike granite or concrete. Easy maintenance and longevity are important elements to prioritize when choosing kitchen materials.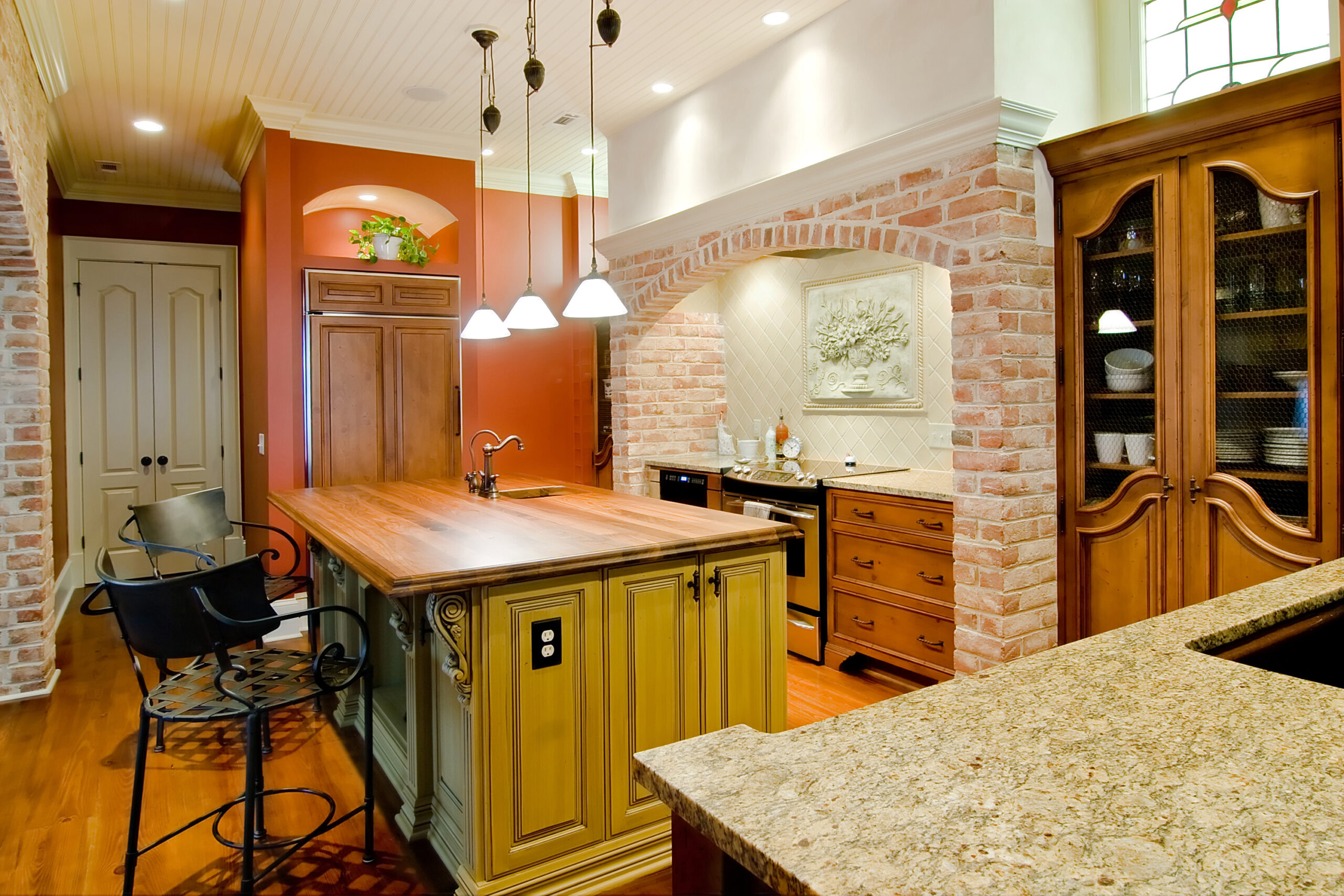 Kitchen Design Trends to Fade Away or Stay Forever
In the 1960s, kitchens looked very different than they do today. They were often fitted with colorful appliances and cabinets. Which is quite unlike the stainless steel and natural tones more common in 21st-century homes. Also, 1960's kitchens didn't have kitchen islands, and instead, a dining table was the gathering place of the room. However, one sixties trend has remained the basis of good kitchen design ever since: the work triangle. The work triangle makes the kitchen functional. It's the method of creating easy paths between the stove, sink, and refrigerator–the three areas where primary cooking tasks are carried out.
Other trends haven't had the longevity of the work triangle. For example, metal cabinets were all the rage after World War II, when the nation had a surplus of steel. But metal cabinets tend to become scratched and dented over time in such a high-use area as the kitchen. Thus, they've fallen out of fashion to make room for new trends. When you know what makes a good kitchen design, you can evaluate current trends and see if they'll withstand the test of time.
Will These Current Kitchen Design Trends Work for You?
Stepping Away from the Open Layout
Open floor plans were all the rage in the '90s and early 2000s. However, recent design trends show a step away from open design in the kitchen. While open spaces are great for entertaining, they're not so functional for everyday life. Noise carries in open areas. So, unless you need the space for mingling, open floorplans aren't always the ideal choice. Families especially appreciate the ability to spread out and give each person their own space.
In 2019, 53% of kitchen renovations included opening up the existing space. However, this number has dropped to only 43% in 2021. The move away from open layouts may be stepping back in time when it comes to kitchen trends, but it might be for the better. Open floorplans can create unusable, dead space. Creating a dedicated kitchen area can make the workspace more functional, improving the pathways of the work triangle.
Oversized Pantries are Rising as a Top Priority
Pantries have long been a kitchen staple to store food in an organized and accessible way. Many homeowners are prioritizing having a large pantry space in their kitchen renovations. This can be a great option for those looking to have a clean, sleek appearance, as it lets you tuck away everything you don't want to have on display. When it comes to designing with a great amount of storage, adding an oversized pantry is a great way to go. With thoughtful storage solutions being a top priority of great kitchen design, the oversized pantry may be a kitchen remodel trend you want to replicate.
What About Open Cabinets and Floating Shelves?
Another popular trend that pairs well with the oversized pantry is the open cabinet trend. The large pantry gives you the freedom to use the space typically full of wall cabinets to display your dishware and other collectibles. It's true that open cabinets and floating shelves have the possibility of causing storage problems in the kitchen. But when paired with storage space elsewhere, they can be a beautiful addition to the room.
However, they may not be great for families with younger children since the open nature means fragile items are more easily bumped and broken. Also, Items on open shelves become dusty more quickly and need to be cleaned more often than in protected cabinets. Keeping in mind ease of maintenance is an important factor when considering kitchen design. So the open storage trend may or may not work for you, depending on the amount of time you want to dedicate to cleaning.
Implement Fresh Ideas Without Blindly Following Kitchen Design Trends
Kitchen design trends today are diverse and varied. When it comes down to it, creating a space catered to your taste and needs should be your top priority. Good architects and designers will help know if the trends you love will be a good fit for your space. Remember, putting your own spin on popular ideas is always a great idea. With a little creativity and planning, you'll get a thoughtfully designed space that'll serve you for years into the future.